Historiography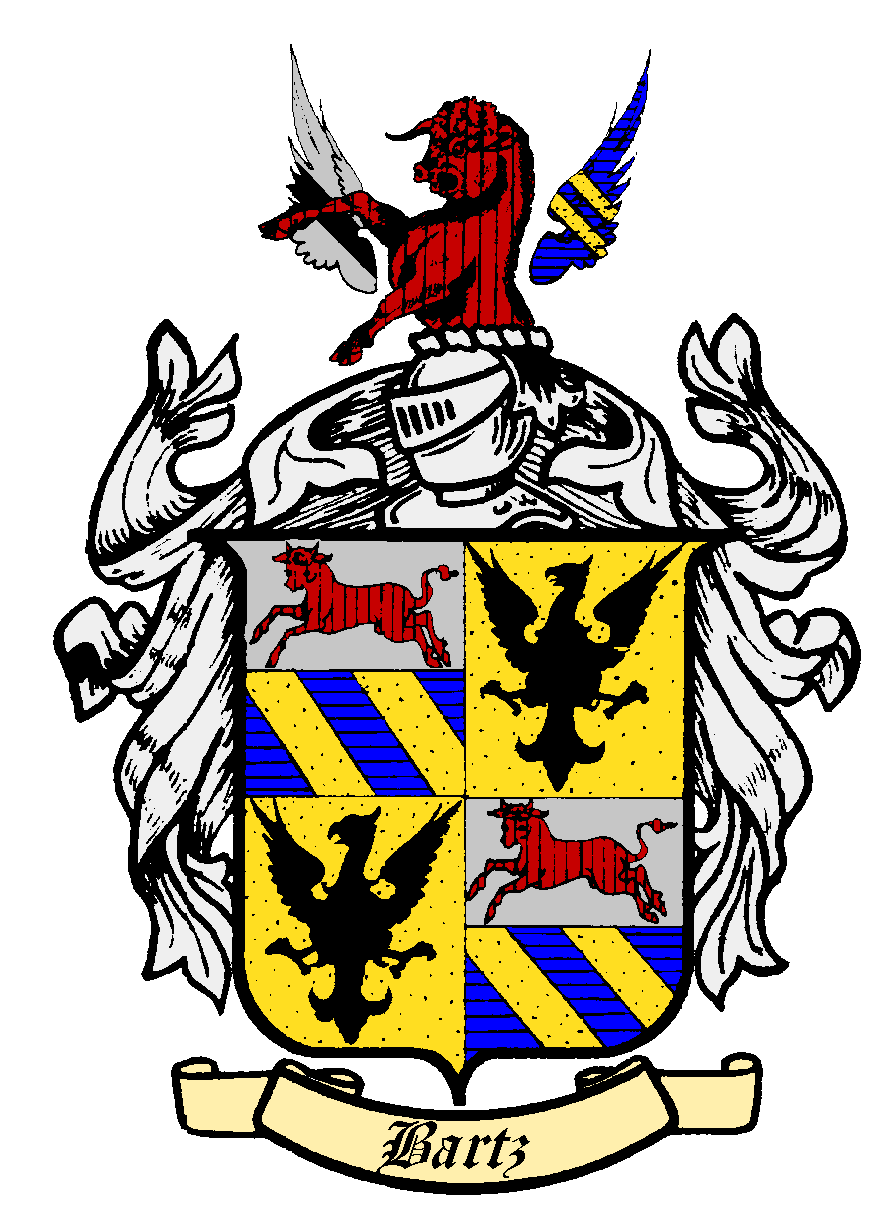 The Bartz Coat of Arms was drawn by a heraldic artist from information officially recorded in ancient heraldic archives. Documentation for the Bartz Coat of Arms design can be found in the Rietstap Armorial General. Heraldic artists of old developed their own unique language to describe an individual Coat of Arms.
In their language, the Arms (shield) is as follows:
"Ec. aux let 4 coup: a. d`arg. au boeue courant
de gu. b. d`azur a deux bandes d`or: aux 2 et 3
d`or a l`aigle de sa."
When translated the Arms descriptions is:
"Divided, 1st and 4th, divided (a) silver with a red
ox running (b) blue, two bands of gold, 2nd and 3rd
gold, with a black eagle."
Above the shield and helmet is the Crest which is described as:
"l un boeue iss et cont. de gu. entre un vol,
l`aile dextre d`arg. a la bande de gu., l`aile
sen. d`azur a deux bandes d`or."
A translation of the Crest description is:
"A red ox issuing between two eagle wings left wing,
silver with a band of black, right wing, blue and
two bands of gold."
Family mottos are believed to have originated as battle cries in medieval times. A Motto was not recorded with the Bartz Coat of Arms.
Individual surnames originated for the purpose of more specific identification. The four primary sources for second names were: occupation, location, father`s name and personal characteristics. The surname Bartz appears to be the locational, patronymical and characteristic in origin, and is believed to be associated with the German`s, meaning, "dweller at, or near the sign of the bear" and "descendant of Bar (bear)."
Different spellings of the same original surname are a common occurrence. Dictionaries of surnames indicate probable spelling variations. The most prominent variations of Bartz are Barz, Barsch, Bartsch, Barsche, Barze and Bartze.
No genealogical representation is intended or implied and it does not represent individual lineage or your family tree.